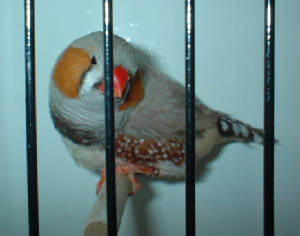 One of our fawn cocks ready for the season ahead.
IN 2004 WE WON BEST PENGUINS AT THE SZFS & S&NCZFS SHOWS.
WINNING IN BOTH THE BREEDER AND ADULT SECTIONS.
CHESTNUT FLANKED WHITE CHEEKS
Although we have had this variety since 1995 we had never exhibited them as we where finding that the quality of chicks never reached the standard of the greycheeks.
2004 was a different matter and we had a nice pair to show and show they did winning at three big shows the ZFS club show, S&NCZFS and the SZFS club show. A first again at the SZFS for this colour to win the section.
FEBRUARY
Just now we have a some nice chicks seperated from there parents.
There are two or three nice quality normal cocks, also a few hens but not up to the same standard as the cocks.
Fawn wise some chicks have just been split away from the parents and not looking that great at the moment.
On a good front a nice chestnut grey cheek hen has been produced and we are looking forward to it moulting out.
On the penguin front a couple of nice fawn cocks have been produced, good since we only produced one all last year.
Young 2005 fawn Penguin cock
2005 baby normal just away from parents.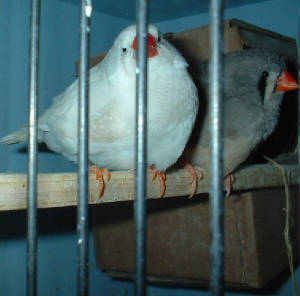 Chestnut flanked white cheek cock paired to a normal hen.
Note the cardboard nest box.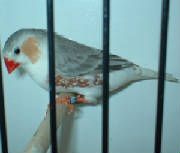 A 2004 penguin cock son of the original penguin cock.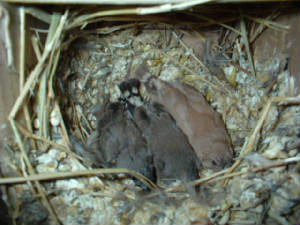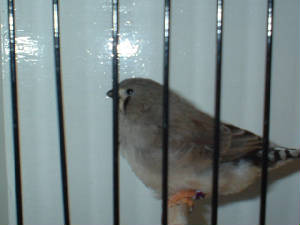 A young Normal/Fawn cock, nest mate of the fawn opposite.
These are two youngsters from the nest above.
CFW GREY CHEEKS, Another nice cfw grey cheek hen has been produced and has been seperated from the parents for a few weeks now.
SEASON PICKING UP March 14th, After a stuttering start our season is beggining to pick up with alot of chicks in the nest at the moment.
Chicks are in cfw, fawn, normal and if we are lucky possibly a lightback or two.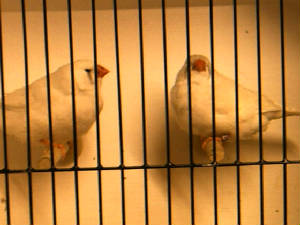 2004 cock with a 2005 hen the pair that won at both ZFS & S&NCZFS 2005
December 2004
PENGUINS
We are already producing some nice penguins from both splits and visuals.
One nest in particular has three young from a split penguin fawn cock x normal penguin hen. They have produced one fawn penguin hen, one cock and a fawn cock.
HOW OUR GREY CHEEKS CAME ABOUT ?
Well we received a present of a chestnut flanked white cock split for black cheek ?, from Terry Barton of Portsmouth (England).
On breeding the bird with a normal hen we produced some strange looking chicks, one was mottled grey/white cock another a visual chestnut flanked white hen and another hen chestnut but with diluted tear marks and no tail bars. That was in 1995 and we kept the two chestnuts and gave the cock to Jim Addison of Carlisle (England) as we didn't know what it was.
In 1996 we paired the chestnut hen with no tail bars to a normal cock and bingo ! out came a full nest of chicks all off the mottled/white colour. Unfortunately the hen died on the nest but luckily we heated the chicks up on the radiator and they all survived.
We scanned the internet and found these birds on an american site GREYCHEEKS thats the birds. Good birds they where too and we exhibited them at the ZFS Club Show in Portsmouth, they won there class and should have won the section.But give the Judge his due (Gerald Massey) he was honest and said he didn't know what they where so didn't put them forward.
We showed them at the SZFS club show and on that day they won the best Non Standard Section a first for the variety.
We have since went on and won the Best Non Standard at the ZFS club show with fawncheeks another first for the variety. We also equalled the feat at the SZFS club show.
The population of these birds has now exploded in the uk and both varieties are now standard ZFS colours a happy ending.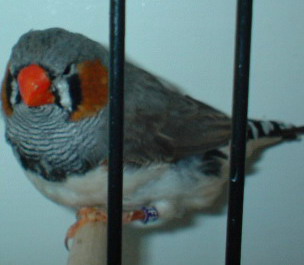 One of the first Normals of 2005
Now in October, he has coloured up very well but has not been to a show as his condition has been bad, lets hope he will get a run out soon.
A nice 2005 young fawn just away from the parents
A couple of nice youngsters from normal cock split for fawn paired to a normal hen.
A nice wee fawn from father and daughter pairing.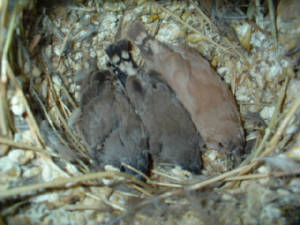 A nest of youngsters from a Normal split fawn cock and a Normal hen.
Note the colour of the tail bars you can clearly see the fawn is a hen and the middle Normal is a cock.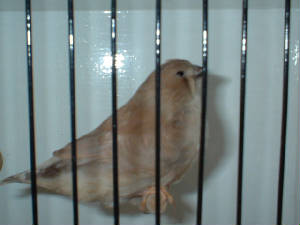 A young fawn hen bred from Normal/Fawn x Normal pairing,still with parents at the moment.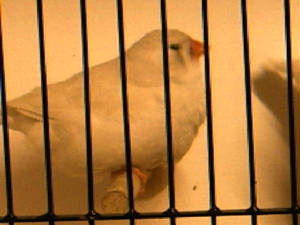 2005 Chestnut flanked white cheek hen, done well at her first two shows, best non standard twice.(ZFS & S&NCZFS)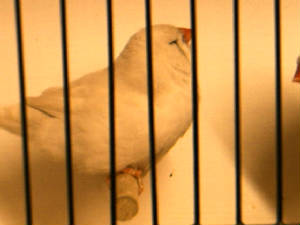 This nice hen is the daughter of the cock opposite, she has done ok this year winning best non standard breeder at the ZFS club show